At my Korean friend's house I briefly showed him how I play the King of Fighters '98 for the PSOne on Level 8, and how I owned the last boss Rugal with Kim.
How it has always been done for even the Neo Geo original version in one of those arcade parlours.
Hahaha
He was laughing all the way and when it was done he looked visibly surprised.
Guile's reply to Kim was diplomatic but he sure looked stern. He said there were no combos or super desperation move executions on my part, and I told him that while combos and skills are impressive but ultimately, having and using your brain is even more important. He thought briefly, and nodded. I'm glad I wasn't even explaining the fundamentals of atomic physics.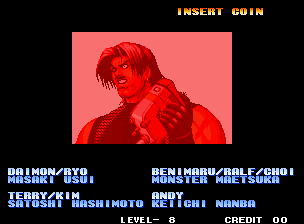 The face and comeback of an Unlimited Maroon.
Also as I reasoned, if this is all it takes to win especially at the highest difficulty, then why do I even need to go any further? Time is precious, and unlike those really frivolous people I have just too many other objectives to clear and hardest perfects to bag, haha. I would love to do a casual video and put it up on High-Definition when I get the time.