The last boss looked German and he had great plans to detonate London and allow the people to suffer the extent of his wrath. Hmm actually just for the fun of it I wanted to join him, kill them all and then kill him later, if it weren't for the game's limiting perimeters.
His death plunge, as taken and witnessed by me, the cute and handsome boy behind who was responsible for all this.
Familiar sight? From 1989.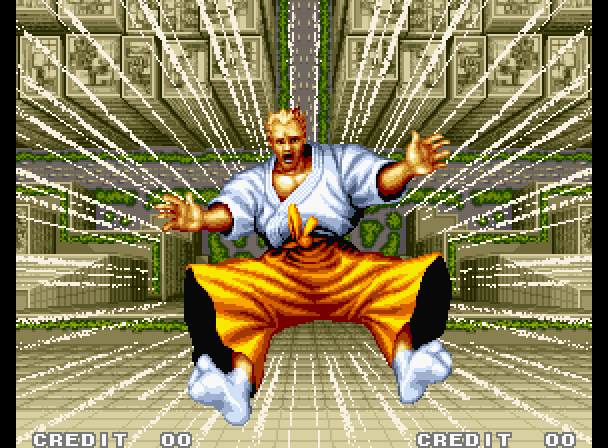 As usual SNK took the cue from Capcom.
It gives me great pleasure to announce to the readership and much of the known world my latest arcade game completion on one credit, which is Time Crisis: Crisis Zone. I've always loved this game more than the Time Crisis series, there is a certain degree of reasonableness and attainability and by being more calm and methodical this time I am proud to declare that I have done it. In my on-and-off relationship with it on various arcade spots (most of which have faded into oblivion) all these years I kept slipping up and had once made history at one of those now-defunct places by beating it with two credits but as I've always felt that I could and I should do better, that to me was uncounted.
And this time when I saw it resurfacing at a retro spot I decided I would not let it go, and on this special night as all the other machines were switched off and I was the last man standing I was growing tired but I was determined to make it nonetheless, and after a fierce gunfight with the German terrorist I managed to destroy the last boss and emerge victoriously without needing a continue.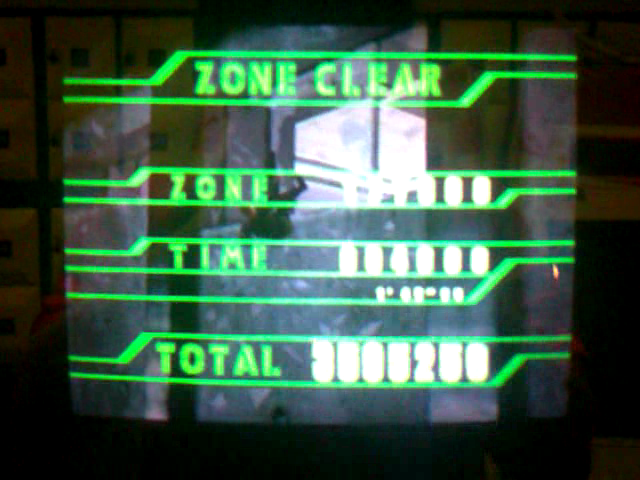 This is the beautiful end I want for all of my opponents in life haha!!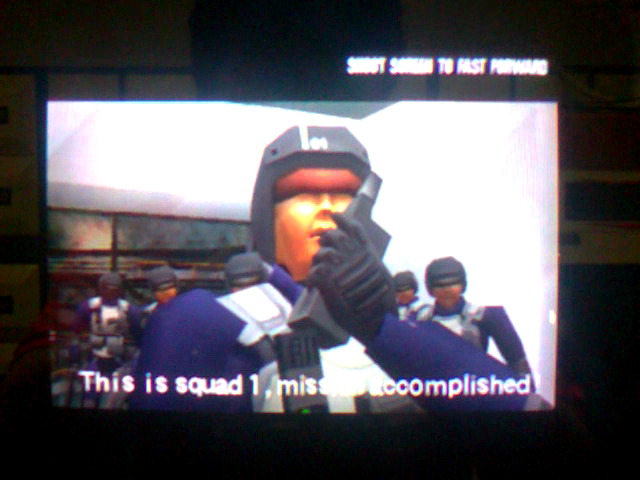 "We did it boys!"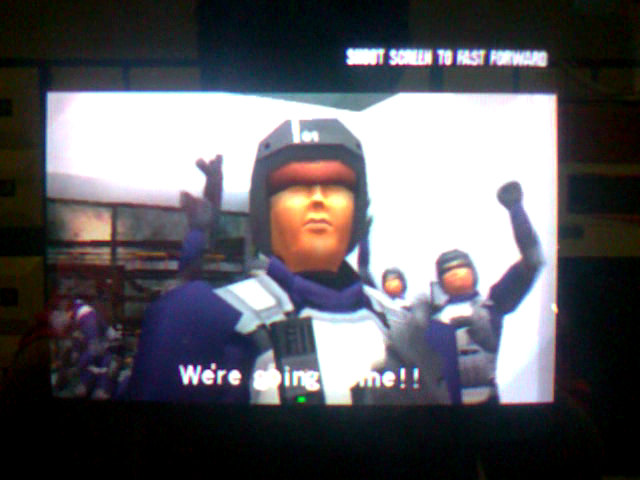 "Yay!!"
I look way better than this guy as the leader but never mind.
Thanks Namco. With the grand exception of your retro PacMan I enjoyed most of your other games anyway. And I've been able to add them to my collection too.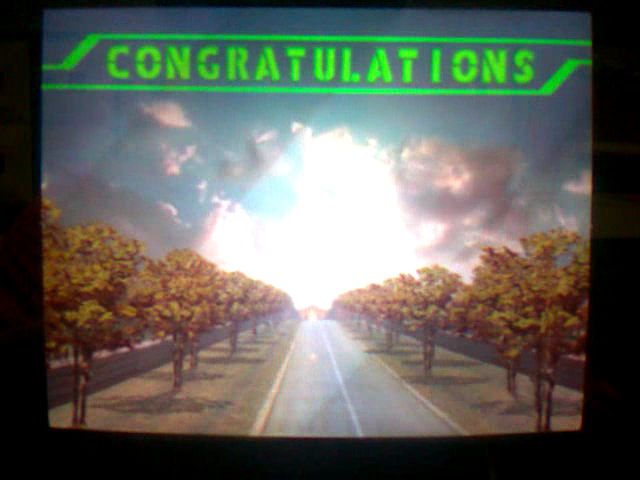 Thank you.
I love this game.
One credit completion, and so I ended up on the 6th spot. Ah, would do better next time. If I care to.
Hitting the 'OK!' spot with the arcade machine gun.
The List of Winners. I'm also innit. Asterisks denote personalities that were able to beat the entire game without dunking in another coin.
It was great. No chance to see the Game Over screen at all on recall. Just like it was in my younger days, I walked away from the place feeling like a hero and proud of myself as usual.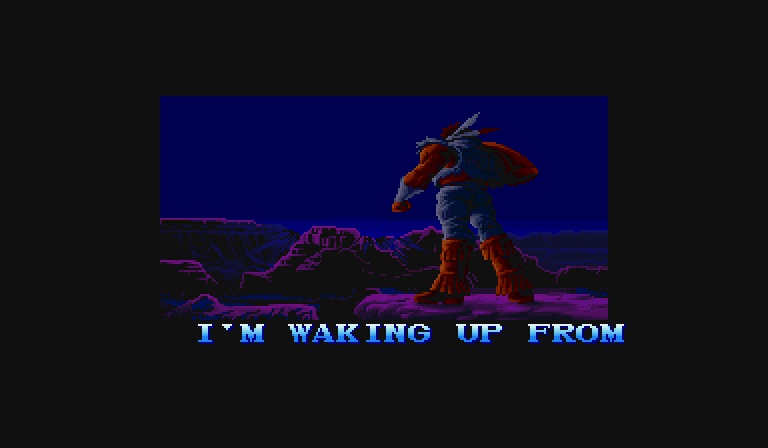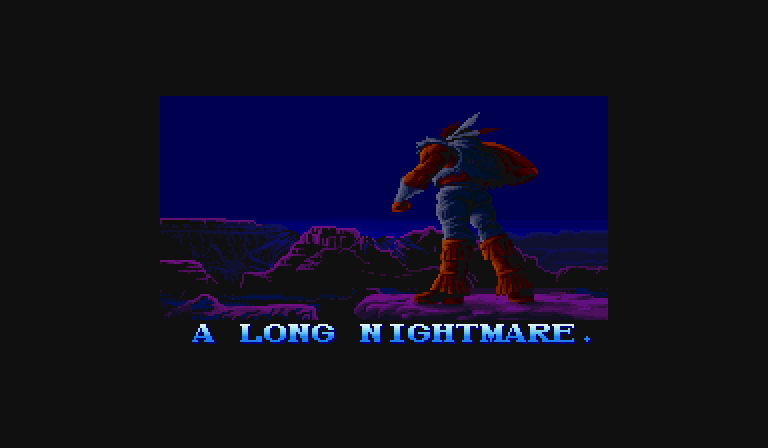 Yes my long nightmare ended, and it was still dark out there.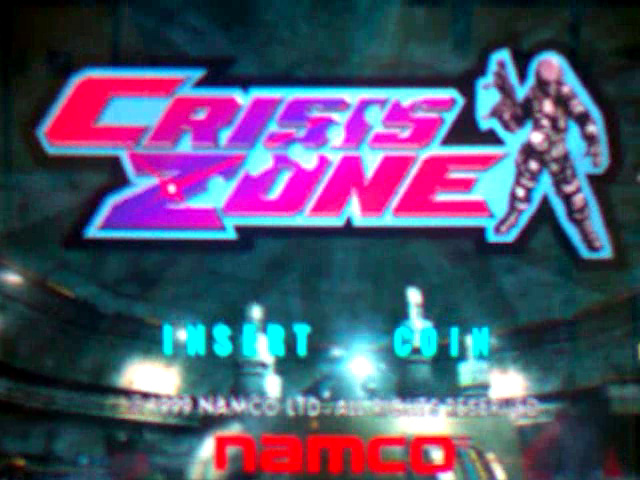 Title screen proper.
My war friend 战友.
I know Namco doesn't really like Nintendo, but I just added it for the colour and effect.
The last game that I beat on a credit was Tekken Tag Tournament just a few months back, before that spot by the beach closed down weeks later due to poor attendance rates.
The last blow I landed on the demon bitch before the beachfront attraction closes for good.
Wang Lianglei 王椋雷 and Mokujin 木人 - my best team.
What happened was a dear girl I knew shared her Tekken passion with me, though I don't play it that much. When I saw it then and there I thought of her, and I gave it a few tries. I'm glad I made it through in the final hours of that beachfront arcade. Dear girl, I should have spent more time on that lucky-strike game (I like random and extreme damages to my opponents) now that I think of it. I used a bit too much of my talented life on Street Fighter after beating and overachieving on most of those retro classics and obscure titles beforehand that I enjoyed as deeply. It's old news by now, but I just got into Super Turbo only over a year ago and I already easily beat those who played it from '94 when it was released haha. What are those meaningless tourneys dear, when I am the biological evidence of unparalleled greatness all the same wherever I am and those nerd contests don't come with anything much unlike golf and Go (Japanese adaptation of Chinese chess), those things that I love watching much better? And it helps to note that the taxi driver was kind and treated me like his son as I was driven out of the place after achieving the feat. Funnily enough I wanted to flag him but the door was locked, and I had to leave by another exit where I saw him still there and hopped in.
I asked to go to a place to buy those bean paste cakes and on complaining about how poor the franchisees are when asked if the nearer one should have it he offered to take me to a nearer place to get them. I didn't exactly find what I wanted, but I was open-minded anyway and bought a few packs, though I half-suspect they would all suck. I didn't have extra cash with me, only my Dad's credit card, but the simple shop couldn't accept it and the cabbie offered to lend me the money to get them first, where he would charge an extra fee of the same amount to my card later via the meter to be marked as surcharge. I agreed and accepted with thanks and after the purchase, we left the place. I was quietly thinking about things until he was nearing my destination, and I showed him the way. Upon disembarkation he told me the system could not accept an even number as an extra as the city and airport surcharges were in odd numbers, and I told him to wait awhile for me to go get some money, and he gamely agreed. When I got to him again after stepping out of my house he asked if the neighbours were scolding me. I was surprised and nodded slightly. He saw me looking hard at their open door and their mutterings when I walked past them earlier. What an attention to a personal detail when most people wouldn't bother. When he disbursed the change he then advised me to first ask a driver if his taxi could accept alternate modes of payment the next time, as not all taxis do. In equal caring and politeness he said that this is because this place is not like China, meaning the technology facilitating alternative means of payment is not as adequate. He thought I was from China... it must be the way I spoke Mandarin that made him think that way. That's not the first time I get the sentiment. Many taxi drivers thought I studied overseas, like in the West when I used English with them. An occasional one would ask if I am local, as most of these failed types aren't friendly or even nice and to them, a taxi is merely a means of getting from one point to another, and the driver is to fulfill the job. I find them mostly nice to speak to. Probably because I am naturally friendly, charming and communicable despite also being gently angst-ridden and cute. How vainglorious.
2011/05/31