Finally, I received my very own new US/NTSC copy of Super Mario All-Stars for the Wii today! It couldn't get any better than this: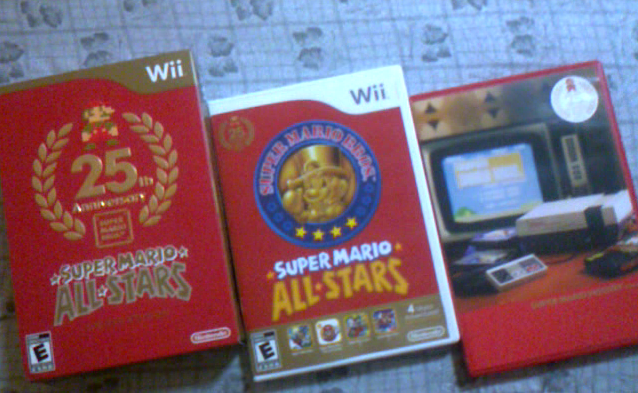 No it could actually get better than this. Despite it being in factory shrinkwrap the manual was in a slightly imperfect (slight rip at the base and a curve on the top right) condition as well as the booket (where at the top AND bottom right there are bits of a squarish tear!!!).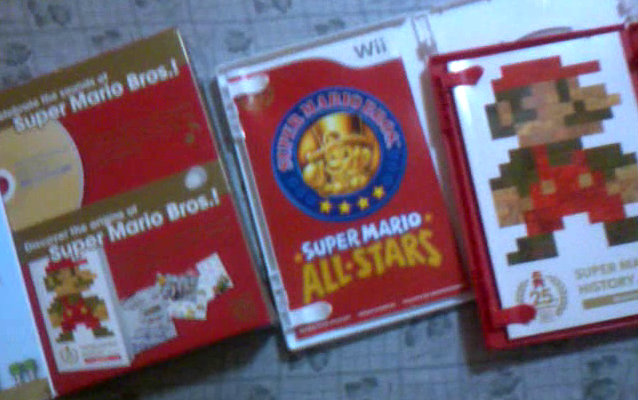 But oh well, this is just an intended backup copy for reading and touching and all, so I don't want to care too much even though its not that cheap to begin with either. So having opened it up and seen through everything I hope the Japanese copy would be better even though I have similar encounters with new imports in the past too. It's still a mystery as to why I cared as Nintendo had one day ordered a recall of ALL the Play-It-Loud Game Boys (including transparent that I really wanted) from the country's retailers in 2000 when I finally had the money to buy at least two of them to play and keep as memorabilia. Perhaps this is a life lesson that has to be taught when I was growing up on what is common sense as well as the great incredible folly of "brand loyalty" helpless and stupid consumers subscribe to despite even getting burned by the very things that they support. It is not my destiny to dare to be stupid like these people, and I think after looking at everything today I will cut the spending budget currently set aside for gaming electronics by at least 50% and not be too keen in looking for those vintage games (where I have managed by good fortune to find so many of them that I am actually pretty happy and by all standards I should also feel fulfilled and truly satisfied already).