To be honest with you, I have always wanted to capture a no-lag video of myself winning in Street Fighter Alpha 3 using Dan, and especially V-ism Dan. Even if I don't do much combos (like he has lots to begin with) and I use an extremely old, BLOCKY and cranky keyboard.
Auspicious beginning of a first Dan Derby with a player from South Korea.
Because I wanted his original colour (which also means I HAVE to take Z-ism whether I like it or not) and HE took it, so I have no choice but to teach him a very good lesson.

Love his airborne attack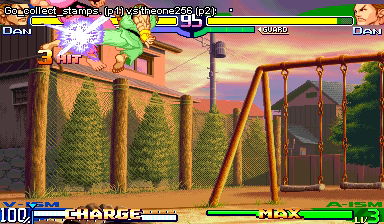 that lands a 3-hit on heavy kick execution.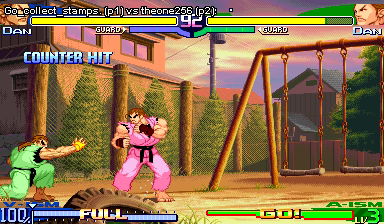 See how powerful his move is?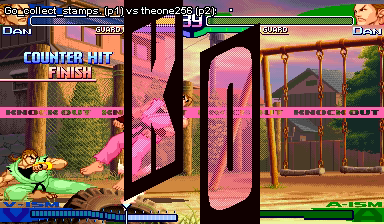 Tough luck boy.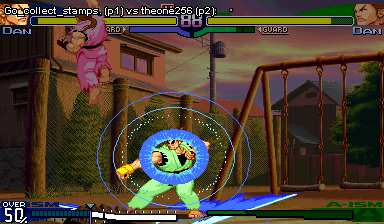 An opening.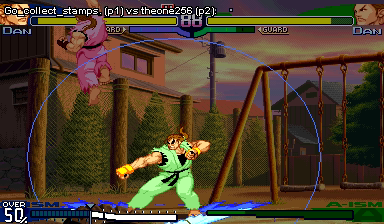 Here I come!!!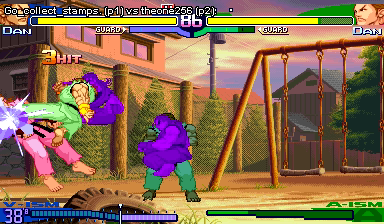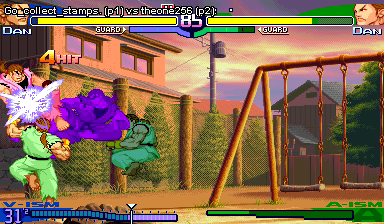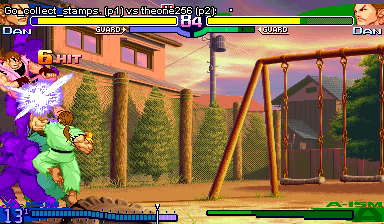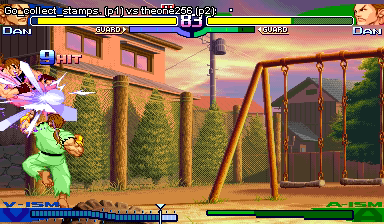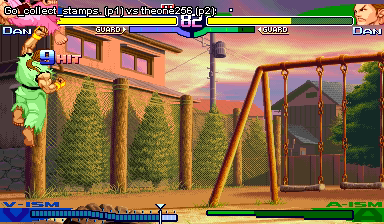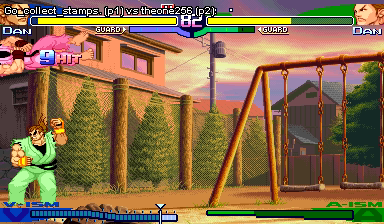 Yeeah hah!!!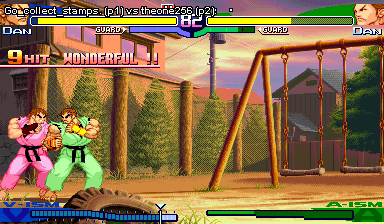 So how did it taste? Was it wonderful !! ?
I have to say, I owe it all to him for this success. Had he also not picked the original version I wouldn't have been inspired to choose his Custom Combo version, and pull out stuff like this.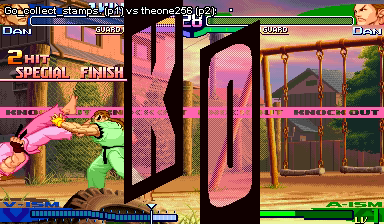 There, I win.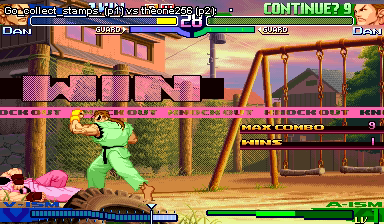 And the winner statistics. But the recording is a bit crap, so.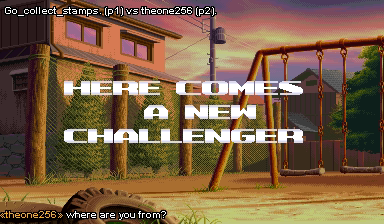 An unexpected question.
After one more game where I won as well, and the recording quality seemed to be going nowhere near flawless I said "good games and thanks" in his language before I left. It was a nice fight with him, but with imperfect recordings it is a pointless waste of time.
Actually, my first Dan win online was in Street Fighter Alpha 2, against a Japanese player. Because the Alpha series is more ghetto than even Third Strike online, few people participate, and out of the few, they are the extremely hardcore players from Japan who give no chances. And because the Alpha series beyond the first had become more complex what with the advent of custom combos and all, plus the fact that I use the keyboard while they use sticks and pads AND the fact that the keyboard controls are anathema to Custom Combo activation in Alpha 2 (the stupid joint press of three different buttons didn't help things any better) I am EXTREMELY disadvantaged when I fight them. But, I still do it, because I want to try, challenge myself, and not give up. They can do whatever they like in this charity that I show them, and I'd still try to beat them anyway.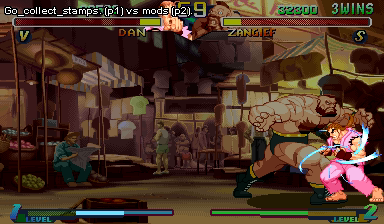 You see a first Dan win coming in Street Fighter Alpha 2 against the Japanese boy heh heh heh.

Super Finish!!!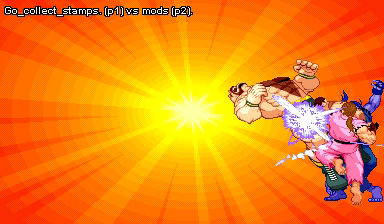 No more children.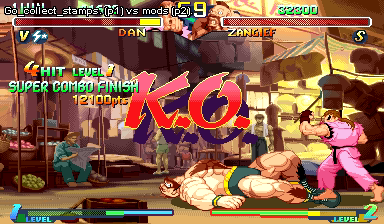 Signature Pain.

Dan's heartfelt advice to the Soviet Terror.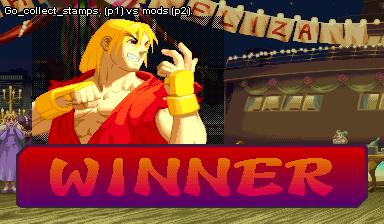 Zangief defeated on a second victory for the day.
"Go home and be your Mama's boy!"

Argh Ken is lame but oh well.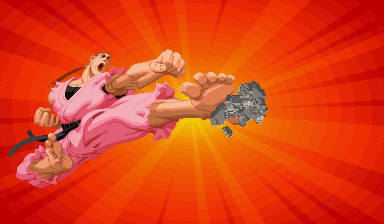 Hyyyyaaaaaahhh!!!!!!

Mighty Dan Kick on Ryu.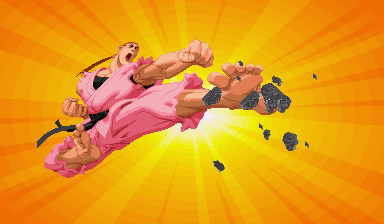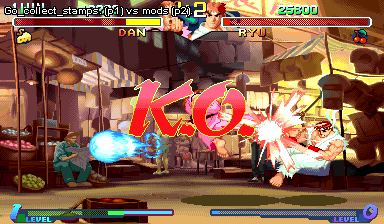 Every anti-shoto player would love to do this as a finishing move to these turtles.

Hahahaha as if that virgin nerd is actually classifiable under Japanese labor statistics.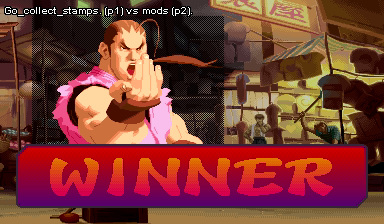 X2 to the Eastern terrors!!!!!!
I am glad to share with you that, after so many tries and unsuccessful and imperfect recordings... it has finally been done!!! And against the opponent that is from Japan. Marvellous!!!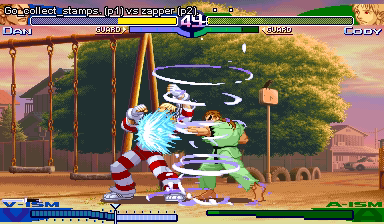 Closing up.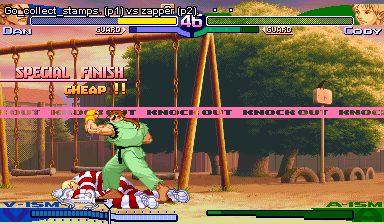 Cheap!! But I win.


!!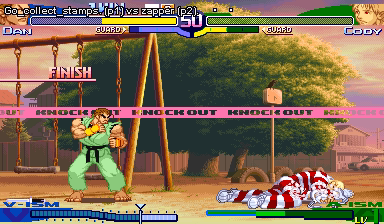 You got dust on your face...
You big disgrace!!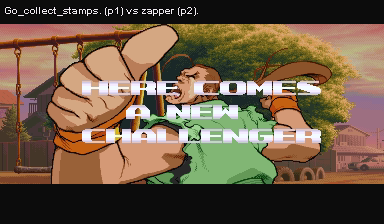 We will we will... rock you!!!
The fight with Vega is the real one.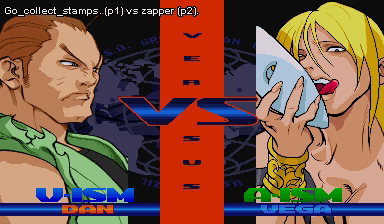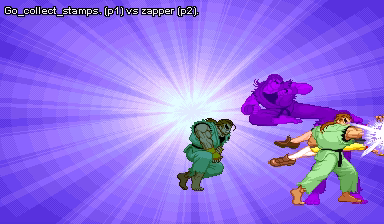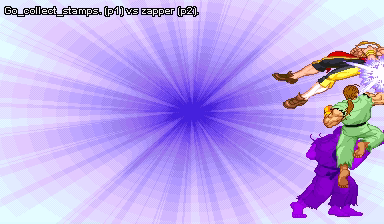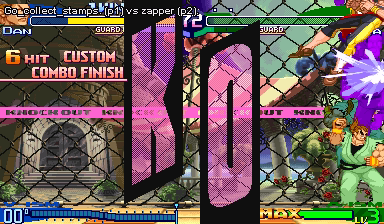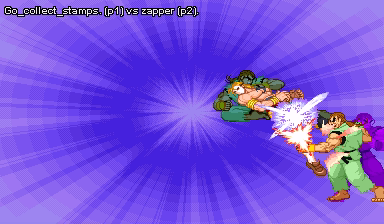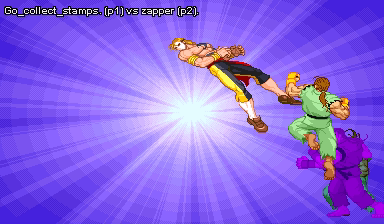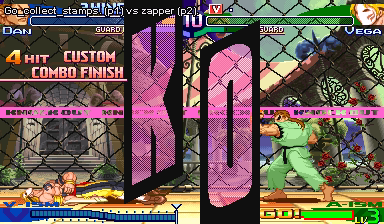 Two rounds won on Custom Combo Finishes. I am content.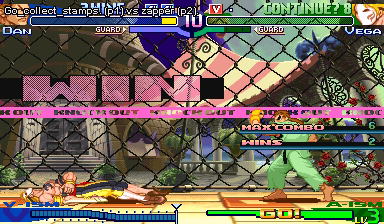 Good enough.
I have seen people play from around the world and I have always wondered why no one including those who believe they are pros would choose Dan at all, and in the few that do, there is no one I have ever seen who takes the Custom Combo version. Why is that? And it's just a game isn't it? You mean you think you are good, but you acknowledge that you are not good enough to use much less understand the lowest-tier character and its fighting style? Pathetic!
A Japanese I fought in the Street Fighter Alpha 2 domain tried using Dan as a comeback, but because he tried to do combos like he would with his Ryu he kept failing and I could tell that he lost interest. Hmm, combos do not a fighter maketh. People who rely a lot on it to win I think, are failures and one of those dime-a-dozen safe-but-boring conformist players that have no ability to explore new and different things, even if that would sometimes come with limitations and greater challenges and in ways that are unexpected. People, even among few that play this silly game compared to the much-more-popular Super Street Fighter II Turbo and Street Fighter III: Third Strike.
The Asian level in the Zero/Alpha series like those two has always been the highest, and I noticed that in Zero 3 the game is much more complex than even Third Strike, that I manage the least proficiently outside of the arcade and even joypad controls (let alone keyboard I invariably take to online). For the most part I need real controls to play Alpha 3 like I do outside against other Asian players, some of these hardcore types that I have also already defeated.
But when playing it online I try to enjoy myself and do my best, and I have no regrets about anything. I tell my naughty cousin the same too. Those who go too deeply but still gained nothing in the real material world like the stupid nerds that we all know are more and more concerned about winning, talking shop (I hate hearing about this and the mentioning of Jap tournament players the most), their "reputation" (like it really matters), the fear of trying out different things just so that they would look bad and lose in front of everyone etc... they really have a life.
I strive to be better, but I am not interested to be like any of them.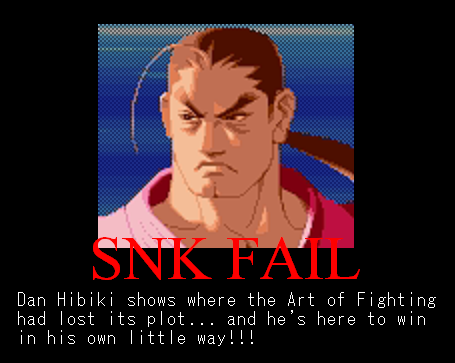 Dan: King of Goof Ups, Grand Exponent of Broken (disconnected) Combos, Tireless Executor of Random Moves, Street Fighting Style Police, God of Spam
PS I actually went to beat Akuma in the first Zero game in one credit on Expert Mode (even though I just made him fight me on my sunset stage in Thailand) JUST to get his picture in full blue glory. Can't note any lack of dedication here on my part.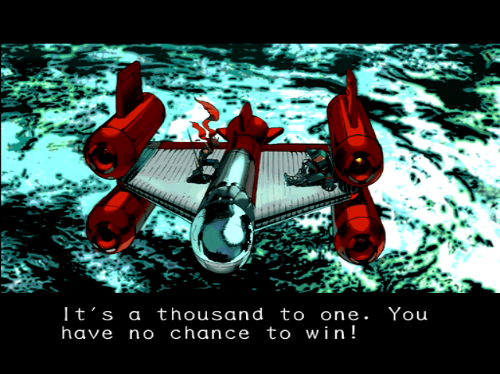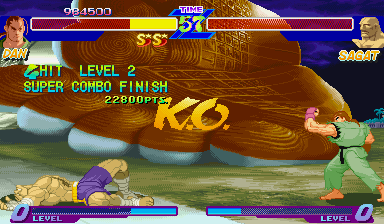 Beating Sagat on Expert Mode on my FIRST TRY, just to get some differently-animated pictures of him in his custom green gi (but there were none, damn!). Whoo hoo!!!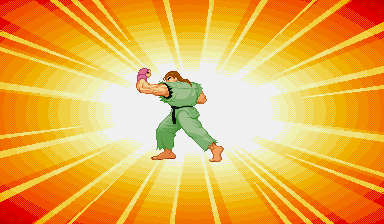 There, he is the strongest, depending on who uses him hahaha.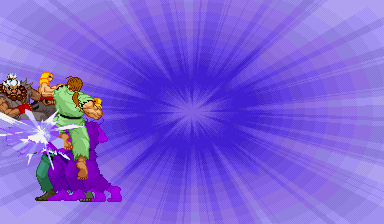 An excerpt shot from a fight against Akuma on Expert Mode as well in Zero 3, just for the novelty of it.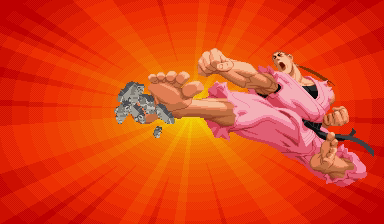 Yaaaaaaaaa!!!!!!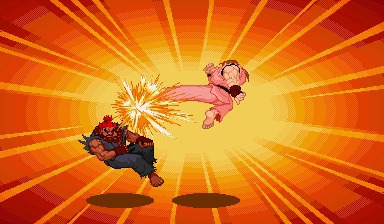 Remember this picture where the weakest has defeated the strongest.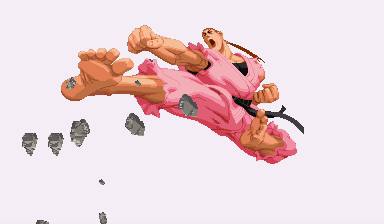 Chaaaaaaaaa!!!!!!!!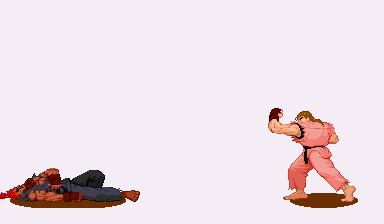 Shaaaaaa!!!! I'm not Japanese, so. I. Don't. Care.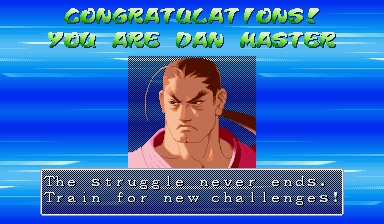 I get this crap message even though my score was higher than Charlie's. Well at least the Master decoration remains unchanged ~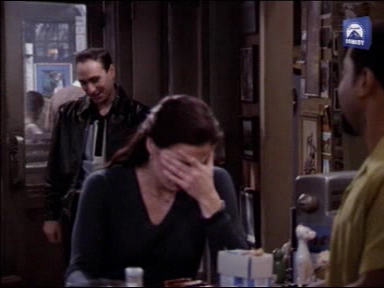 For the haters this guy beats Dan easy.