Tjorvz1
has made a comment on
░▒▓█ Hyper Street Fighter II - Go_collect_stamps. (WW Guile) VS mrmimimi (WW Ryu)
:

This doesn't have anything to do with the actual video itself, but I must ask you.
What are your views on Tekken & Soul Calibur series? Not compared to SF, just as individual games.
They are both good fighting game series with a high element of chance that adds to the excitement.
I still remember playing someone in Tekken 6 last year in a 5 round bout using a random character and nearly beating a competent human opponent with it despite almost never touching the game in my lifetime.
Tekken revolves around devils and stuff that I don't like, and the storyline of these key characters that I read from Wikipedia is non-coherent and astoundingly, stupid. If you want storyline inspiration look to the supporting cast instead as theirs are surprisingly way better. Wang Jinrei and Feng Wei's especially. And I appreciate the fact that almost all Asian (Chinese, Korean) characters speak in their native tongues
in the fifth installment of the series. Language authenticity is really my thing, even though for most other people they simply swallow whatever comes along.
Gotta thank him too because after reading his question I went online and to my great happy shock managed to find a new import copy of the very first Soul Calibur game (named Soul Edge) put out, and I bought it. So thanks again to him I am fortunate to have these gems Soul Edge for the
Sony PlayStation
and Soul Calibur for the Sega
Dreamcast
. And they are both original Japanese copies.
* If you still don't get it already I am not interested in the later series as Namco had either become lazy and complacent in naming their sequels or they have inadvertently albeit stupidly driven themselves to an English language lexicon corner by the unexpected successful sales performance of the first two games.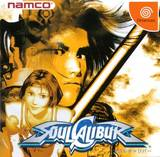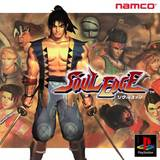 Thanks

. It's been pretty cool knowing you. If only you made a home version of Prop Cycle too.
Now if any stupid people were to yelp like dogs if games like Ridge Racer and Densha De Go! can be released for a home console and be played with a regular controller then I don't see why it isn't possible for Prop Cycle either (minus the small fans on the sides to stimulate wind effect - but that's minor and it's okay).